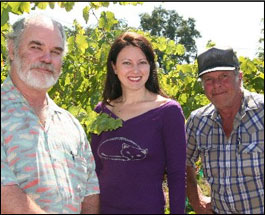 In 1852 a farmer named Richard Hope Crane, straight from the California gold fields, arrived on horseback to gaze over the Cotati Valley. He fell in love with the fertile soil and moderate climate and knew he wanted to stay and start a farm. He purchased property from Thomas Page who was the grantee of the vast Rancho Cotate land grant. With this land, land that now includes the Crane Melon Barn, Crane Canyon Ranch and farmland for the Crane Melons, Richard grew a variety of crops and raised livestock.
Over 150 years later the great, great grandson of Richard Hope Crane, Richard Hayden Crane, owns Crane Canyon Ranch and grows Crane Melons. His daughter, 6th generation farmer Jennifer Crane, established Chester's Vineyard in 2002. Chester's Vineyard borders the Bennett Valley appellation to the east and the Sonoma Coast appellation to the west, but does not fall into any official appellation. This orientation helps provide the warm days and cool evenings that pinot noir requires to produce high quality fruit
This orientation helps provide the warm days and cool evenings that Pinot Noir requires to produce high quality fruit.
Crane vineyard includes Dijon and Italian clone, all planted on 101-14 rootstock with a VSP trellis system. The 100% black clay soil helps retain moisture, ensuring that the vines are watered only occasionally. All of the farming practices in place at the Crane Vineyard help give the fruit distinct concentrated flavors and a complexity that you can only obtain with world class Pinot Noir.
In 2005 a 2-acre Pinot Noir block was planted at the Crane Melon Barn. The "Barn Block" is Pinot Noir Dijon clones on 101-14. The trellis is VSP and includes drip irrigation. Soils are sandy loan on the surface with clay underneath.
The current release is 2009 David Noyes Vineyard designated Crane Vineyard Pinot Noir.